Copper cable wire recycling machine
Copper cable wire recycling machine introduction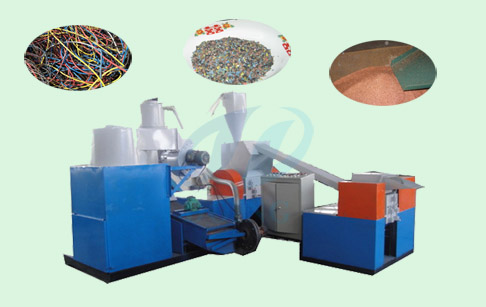 Copper cable wire recycling machine
Copper cable wire recycling machine is one of our products that are developed on our own. It is usually used to produce copper and recycle plastic granules. The separator is independently developed by ourselves and has rational structure, stable operation performance, and so on.
The separator of the Copper cable wire recycling machine is suitable for processing all kinds of cables. It can separate copper from plastic effectively by crushing, vibrating screening separation and vibration separation so as to achieve comprehensive utilization. It features good cost effectiveness, dust-free producing progress and second pollution-free property.
Besides, the Copper cable wire recycling machine can facilitate the installation, test running and delivery. You can just put it into use immediately when you receive it. Moreover, during the whole production process, the cable recycling facility only needs to be fed once because the volume for material is quite big. Custom products are available according to customers' requirements.

Feature of Copper cable wire recycling machine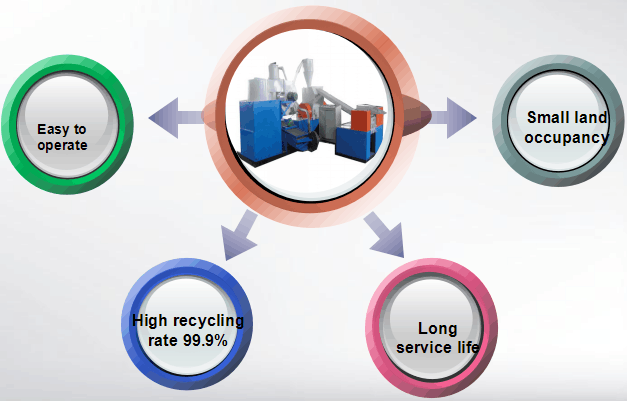 Copper cable wire recycling machine
1.Suitable structure and layout, easy to install
2.Using PLC control, uniform feed, intelligent operation, maximum guarantee machine 's stable work
3.The crusher adopts double roller,low speed, high tear produces big output while little noise
4. The design of separator and dust collector is handy for movement or transport
5.The rotor of the grinder is alternating,leading to more efficiency,faster discharging,lower noise and more steady running
6.The separation rate of air separator can reach at least 99%

Final product of Copper cable wire recycling machine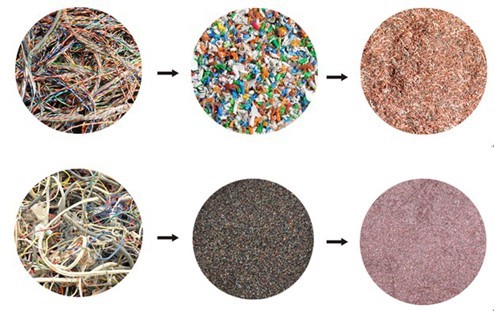 Copper cable wire recycling machine flow chart

Prev Λ New product copper extraction machine NEXT ν Scrap copper cable granulator machine for copper particles
If you wanna to get more details about Copper cable wire recycling machine you can send E-mail to market@doinggroup.com. You can consult our professional engineer and specialized sales team with leave a message in below form.We will contact with you ASAP.You also can visit our factory in Henan,China.Get Detailed address.