What is the solvent extraction process ?
Date:2015-11-16 16:43:30 / Cooking oil machine FAQ /Give me the price / Leave a message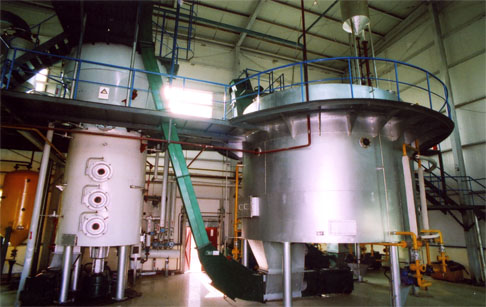 Oil solvent extraction machine
Oil solvent extraction machine mainly extract edible oil from cake.Cake in edible oil making industry is that after edible oil press workshop,there are two products:crude edible oil and cake.And in cake ,there is still some edible oil.For high yield edible oil,our edible oil solvent extraction machine can extract almost all edible oil in the cake.

Processes of solvent extraction workshop :
Solvent extraction oil mainly get the residul oil in the meal,so that we can get more oil from material.

Solvent-- Extractor--Mixed oil -- 1st and 2nd evaporation -- Stripping tower -- Crude oil -- Wet meal -- DTDC toaster -- Meal