Waste tyre recycling machine
Date:2013-06-20 18:07:34 / Pyrolysis Plant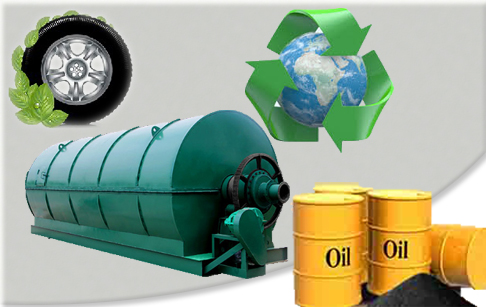 Waste tyre recycling machine

The waste tyre recycling machine not only can processing waste tyre ,but also can processing waste plastic,waste rubber ,we can get 45-52%fuel oil ,30-35% carbon black ,10% steel wire ,this final prodcut can bring much profit for you.

Waste tyre recycling machine


The advantages of wWaste tyre recycling machine
• The ability to get valuable products and energy from waste tyre.
• The machine is more environmental-friendly with high technology solutions.
• The ability to reduce and eliminate buried of waste tyre in landfills.
• Helps to meet the country's recycling philosophy and targets.
• Reduces greenhouse gas and helps meet Kyoto Protocol targets.
• Recovered valuable materials
Structure and principle of Waste tyre recycling machine
* Whole parts
The whole Waste tyre recycling machine is composed by 12 parts; they are reactor, oil pump, catalyst storage tank, condenser, temporary storage tank, vacuum system, vacuum buffer, oil filter, oil tank, purifier device, water pump, boiler heating system.
The key process of the refinery machine is reactor.
* Reactor

Waste tyre recycling machine reactor

Reactor directly decides the waste tyre refinery machine's safety and working life. There are 4 reactors in the refinery machine. The first reactor is made of stainless steel plate; it will reduce the corrosion of the crude oil. We use automatic welding machine and X-rays detection which will not only guarantee the quality of welding but also greatly improve working efficiency.
Features
* Safety
With an auto welding machine for the reactor, it can not only greatly improve working efficiency but also guarantee the quality of welding seam, thus avoid accidents caused by gas leak. Professional x-ray detection chamber are especially important for welding.
There are professional thermometer, pressure gauge and safety valve on every reactor and tank, we can control the temperature and pressure in every section, and it will guarantee safety.
The machine adopts indirect-heating, the fire is far from reactor, it is safe for operators.
* Environmental friendly
Well water dedusting system can avoid black smoke.
Every junction of the reactor is in good sealing situation with professional sealing material.
The oil will be gone through 3 times filter; it can not only improve the oil quality, but also reduce the waste oil pollution.
* Long working life
Material: stainless special steel plate.
Welding: Automatic welding machine with x-ray detection will prolong the working life of reactor to the max.
The working life of the reactor will be 7-8years.
The reactor is heated indirectly, it will not only guarantee the reactor be heated equally, but also can prolong its working life.
* Energy saving
Well sealing for heating system, no gas leak and saving fuel.
The exhaust gas will be recycled for reactor heating.
The vacuum is roots vacuum; it could generate strong negative pressure, waste tyre molecule will break down quickly, therefore to reach the aim of energy saving.

Waste tyre recycling machine final product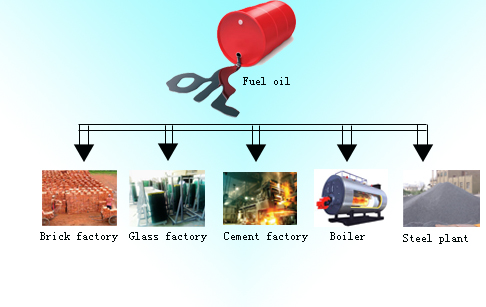 Fuel oil application

1.Fuel oil
a.can be sold directly.
b.Reprocessed into diesel and gasoline by used oil recycling equipment.
c. can be used as fuel.
2.Carbon black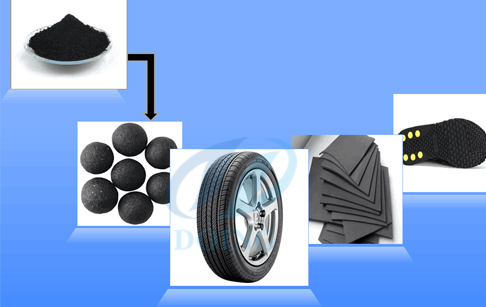 Carbon black application

a.can be sold directly.
b. Reprocessed into high quality carbon by the carbon black plant.
c. make carbon brick by briquetting equipment.